Pecora Nera – Cocles
This open-air joint on the jungle's edge has a deserved reputation as the finest Italian restaurant in the region. The menu has a broad selection of pizzas and pastas, but your best bet is to just ask Ilario (the owner and chef) what's fresh and special for that day, and to trust his instincts and inventions. The main dishes come with a variety of side dishes.

Chile Rojo – Puerto Viejo
Chile Rojo offers a true taste of Thailand, Asia and the Middle East, in a cozy and casual atmosphere, complete with an outdoor patio.They aim to give you a unique dining experience with a selection of exotic, authentic and delicious dishes. Come and experience an "oasis of flavor" with their wide variety of dishes featuring chicken, lamb, seafood, vegetarian, rice and beef side dishes. Specialized in creating exotic cocktails at very affordable prices. We serve you everything from beer to fine wine and the perfect Martini. Happy Hours daily from 6 pm – 8 pm.Take-away is available. Open Daily 10 am – Midnight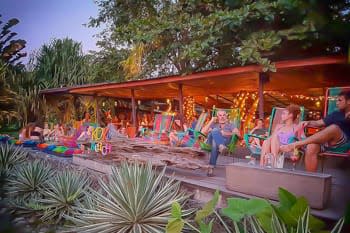 Koki Beach – Puerto Viejo
Best location of all restaurants in Puerto Viejo with a water-front chill-out view. A great place for a couple of mojitos. Food is delicious and the starters are so well-sized they can even make up for a full meal. Prices are $$ with a great price-value.
Latin fusion cuisine with a Caribbean twist. Check out their menu on their Facebook page.
Open Tue-Sun between 5pm and 11pm, closed Mondays ;-). Parking on the street. Take VISA and MasterCard. Attire "casual", Pura Vida you know.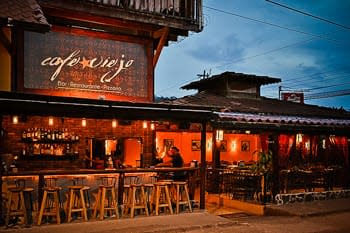 Cafe Viejo – Puerto Viejo
This place is set right on the busiest corner of "downtown" Puerto Viejo. You can get a wide range of pastas and thin-crust wood-oven pizzas here, as well as more substantial fish, chicken, and meat entrees. On weekends, a late-night lounge often develops here, with electronic music and dancing.
Open Wednesday-Monday from noon until 1am.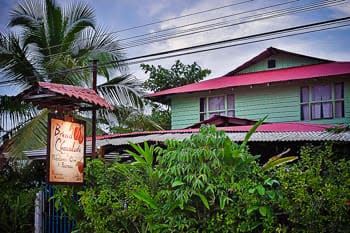 Bread & Chocolate – Puerto Viejo
Bread and Chocolate is a small, all natural, bakery and cafe on the Caribbean coast of Costa Rica. We offer a variety of freshly baked goods, hand-made chocolate truffles, and cakes, as well as breakfast and lunch.
The owner takes pride in his food and service and comes around to chat with you. It's a place to appease breakfast, lunch and chocolate needs!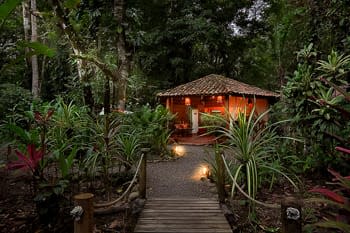 El Refugio – Punta Uva
El Refugio is owned by a very friendly Argentinian couple and has a mere five or so tables, the atmosphere intimate and perfect for a romantic dinner. The food is beyond compare. The prices range from 3,500 colones to 12,000 colones for the best piece of meat on this coast. And when they have them, and you like mussels (mejillones), that is a must-try!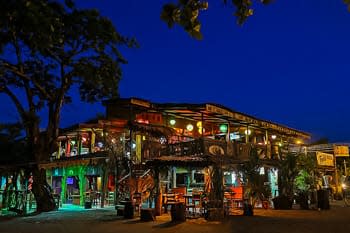 Maxi's – Manzanillo
Cooled by sea breezes and shaded by tall, stately palms, this two-story, brightly painted wooden building offers weary travelers cold beer, potent cocktails, and great seafood at unbeatable prices after a day's hike in the refuge. Locals and expatriates alike—and even chefs from Puerto Viejo's fancier restaurants—come here for their lobster fix, and the fresh fish is wonderful, too. Locals tend to congregate in the rowdy but pleasant downstairs bar, where reggae beats into the wee hours.